Whether you're a homesteader, aspiring homesteader, live in the city, want to learn life sustainable skills, or EVEN a homeschooling family, this book, "Attainable Sustainable" is an amazing book for you to learn quality self-sustainable skills.
**Thanks for stopping by. This blog post contains affiliate links to some of the products I share. I might receive a small commission at no extra charge to you if you make a purchase using one of the links. I also received this book, "Attainable Sustainable", for free in exchange for an honest review.**
In these unprecedented times, we are seeing a gravitation towards a more self-reliant, self-sustainable and simpler living lifestyle.
With the fear of grocery stores possibly running out of items we need, like meat and other such necessities, more and more people are wanting to start growing their own and raising their own.
If the unfortunate pandemic of Covid-19 has drawn you to want to be more prepared, or live a more sustainable life, I have an amazing book to tell you about!
A few months ago I was contacted by TLC Book Tours to see if I'd be interested in reviewing a book called, "Attainable Sustainable" which is written by Kris Bordessa, and published by National Geographic. The book sounded like something I'd really like, so I said, "SURE!".
I wasn't exactly sure what to expect about the book.
Maybe it was going to be some flimsy book with a few chapters, or even worse…maybe the book was going to be all text with no pictures.
Am I the only one who can't stand a book without pictures?
But not this book; "Attainable Sustainable" really knocked my socks off!
When I received the book, I was blown away with the amount of color, PICTURES (oh yes!) and content in this book. Not to mention the high quality of the book itself.
The book is in hardcover format which lays open nicely.
Almost every single page has a picture, which I love. I'm a visual person, so I love not only to just read about them, but to actually see how things look.
---
"Attainable Sustainable" is also an amazing book for the homeschooling family to teach your children about quality, old-fashioned skills that everyone should learn.
One thing I didn't expect to get out of this book, was homeschooling material!
Not only is this book amazing for adults, but the projects in it are very family-friendly, and even my children have begun to enjoy reading through it and learning.
Since we homeschool, this is going to be an awesome book I can use to teach our children quality skills such as candle making, plant foraging, and identification, patchwork and quilting, growing and planting… to just name a few!
---
Now, Let's Dive into the Book, "Attainable Sustainable" – The Lost Art of Self-Reliant Living By Kris Bordessa
Book Format: Hardcover
Page Count: 320 pages
Publisher: National Geographic
Book Highlights: Lots of pictures, hardcover and full color printing
Packed with delicious recipes, natural remedies, gardening tips, crafts, and more, this indispensable lifestyle reference from the popular blogger makes earth-friendly living fun.
Whether you live in a city, suburb, or the country, this essential guide for the backyard homesteader will help you achieve a homespun life–from starting your own garden and pickling the food you grow to pressing wildflowers, baking sourdough loaves, quilting, raising chickens, and creating your own natural cleaning supplies. In these richly illustrated pages, sustainability-guru Kris Bordessa offers DIY lovers an indispensable home reference for sustainability in the 21st century, with tried-and-true advice, 50 enticing recipes, and step-by-step directions for creating easy, cost-efficient projects that will bring out your inner pioneer. Filled with 340 color photographs, this relatable, comprehensive book contains time honored-wisdom and modern know-how for getting back to basics in a beautiful, accessible package.
---
Each section of the book is labeled by the following: EAT, MAKE, CLEAN, GROW, FARM, TREK.
Each chapter welcomes you with a beautiful picture, a full-page introduction.
Also, a really cool feature is the color-coded page corners that make this book very user-friendly.
Here is what you will be learning from each chapter in the book, "Attainable Sustainable":
Chapter One- Eat
Food Preservation 101
Dehydrating
Drying Herbs
Canning at Home
Pickling
Extracting Fruit Juice
Fermentation
Fermented Drinks
Cocktail Hour
Baking Bread
Quick Breads
Yeast & Sourdough
Grains & Legumes
Pantry Staples
Infused Oil & Vinegar
Sourcing Quality Meat
Charcuterie
Chapter Two- Make
Candlemaking
Oil Lamps
Dyeing
A Rainbow of Natural Dyes
Sewing
Patchwork & Quilting
Waste-Free Food Storage
Wool Felting
Basketmaking
Macrame
Leatherwork
Mosaics
Block Printing
Chapter Three- Clean
Soapmaking
Skin Care
Natural Hair Care
Medicinal Herbs
Herbalism
Natural Remedies
Cleaning & Laundry
Air Fresheners
Household Pest Control
Chapter Four- Grow
Planning a Garden
Roots, Fruits & Leaves
Waterwise Growing
Annual Crops
Perennial Crops
Reaping the Harvest
Edible Landscaping
Considering Calories
Growing From Seed
Vertical Gardening
Natural Weed Control
Container Gardening
Sprouts & Microgreens
Soil Improvement
Greenhouse Growing
Pests & Predators
Chapter Five- Farm
Creating an Orchard
Pollinators
Beekeeping
Composting
What You Can Compost
Raising Chickens
Beyond Chickens
Poultry Feed
Small Livestock
Chapter Six- Trek
Venture Out
Building a Fire
Outdoor Cooking
Bushcraft Knives
Cast-Iron Cookery
Natural Shelters
Observing Nature
Trail Signs and Tracking
Plant Identification
Foraging
Collecting Wildflowers
Tapping Trees for Syrup
So as you can see, this book is really incredible and loaded with an overflow of information!
To Purchase "Attainable Sustainable"
If you want a copy of this book, I'd pick it up soon, as I noticed that Amazon is running out of these books rather quickly, so snag yours while you can!
---
About the Author of the book, "Attainable Sustainable"
Kris Bordessa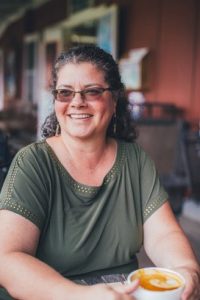 KRIS BORDESSA launched in the hit blog Attainable Sustainable in 2011 to create a community focused on more self-reliant living. She encourages readers to tackle one actionable step each day to embrace simpler living through a DIY lifestyle. Bordessa grew up on a small apple farm in Northern California and is a 2nd generation 4-H member. These days, she lives in Hawai'i with her family, strives for an abundant vegetable garden, and raises a thriving — and often humorous — chicken flock.
Find out more about Bordessa at her website, and follow her on Instagram, Facebook, Pinterest, and YouTube.
---
Thank you for stopping by today!
---